training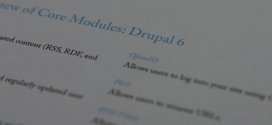 Hey, we've been busy writing our Drupal 6 courses and are very happy to announce we'll be running three all new Drupal 6 courses in Manchester UK early next year!
We're planning an 'Introduction to Drupal 6' course in January 2009, followed by a 'Theming in Drupal 6' in March 2009 and to complete the set we'll be doing 'Developing for Drupal 6' in May 2009.
So if you're interested drop us a line and we'll keep you updated with the details!

The excitement is building (drum rolls), we're fast approaching our Intro to Drupal course taking place next Wednesday 9th April at MDDA Manchester!
We've just a couple of places left for anyone interested in attending at the absolute bargain price of £250.
During the course of the day we'll be taking you through all the key information about installing, configuring and building a Drupal site.
Lunch is on us and we'll be providing course notes for you to take away.